Last updated on February 3rd, 2023 by Myla Pablo
Living in the Philippines can be great for most people as this country has less season compared to the others. You will not experience heavy snowstorms like in Russia or Japan, and you will never experience sandstorms like what happened in the Middle East. Yet tropical countries like the Philippines, Indonesia, Malaysia, have one thing that you will surely do not like when you are living in these countries, and that is Typhoons and Flood.
Living in the Philippines can be quite a hassle if you do not like rain and flood as this country experience it like almost every month with 20-25 typhoons entering its surrounding yearly. And if you are in luck or let's say unlucky, and get to live in areas where typhoons and even simple rain causes a flood. Then be prepared to move out as you will surely cry a river as it will happen almost every time.
This list will show you all the flood-prone areas updated this 2023 that are heavily flooded zones when you are living in the Philippines.
1. Parañaque
It is pretty common in Parañaque to experience heavy floods and rains for a long period of time as such you will possibly experience waist-to-head levels of floods that can rise up very fast due to its location.
https://www.facebook.com/PhilippineSTAR/videos/flood-situation-along-sucat-road-in-paranaque-on-thursday-morning-due-to-typhoon/385563392787640/
In the last year 2020, due to the onslaught of typhoon "Ulysses," close to 200 families were evacuated by the local government unit of Paranaque City to evacuation centers as per media reports. It is said that Paranaque City Disaster Risk Reduction and Management Office said about 30 areas in the city are flooded around that time.
Some areas of the city, most especially Sucat and its surrounding area affected by heavy flooding that the authorities had to announce an urgent evacuation of people within the vicinity of the area.
The good news is that Paranaque City local government is creating monitoring and program solutions to ease the problem of heavy flooding and is being implemented in the majority of the city.
2. Manila
The good old Manila City is one of the most notorious flooded areas in Metro Manila and the Philippines. The city is being ravaged by floods yearly with minor rain can cause up to a heel-to-knee flood which even affected the students in the area. Most parts of Manila City are flooded even the University of Sto Tomas, a prominent university located in Manila, changed their roadways and increase the overall height to lessen the flood in their university as it is one of the flooded areas yearly before 2017.
Heavy rain, rapid industrialization wastes, and a large amount of garbage that was stuck in the center waterways are some of the causes of flooding in Manila City yet as Mayor Isko Moreno started to take a position to lead Manila, it changes over time and improving the quality of the roadways and lessen the flooding of the area.
3. Cavite
One of the rising cities in the South as Metro Manila becoming more and more populated is one of the flood-prone areas in the Philippines. It struggles with floods and heavy rains constantly
As reported last year, A total of 2,184 families or 7,935 individuals are currently staying in evacuation centers, after having been relocated due to heavy rains brought by Typhoon "Ulysses," the Provincial Information and Community Affairs Department said on Thursday, Nov. 12.
Cavite suffered in typhoons so much that Zapote River and Prinza Dam overflowed, causing floods in some areas in Bacoor City, including parts of Barangays Talaba IV, Mambog V, Zapote I, Habay II, and Bayanan. A total of 329 families or 1,295 individuals have been evacuated from affected areas in the city.
Other areas of Cavite that are flood-prone areas of this province include Rosario, Bacoor, Kawit, Noveleta, Naic, and the center of Cavite City.
4. Mandaluyong
Mandaluyong is one of the business center cities in the Philippines and yet it is not spared from being a flood-prone area as looking at the map, it is located at the north of Pasig River with Laguna de Bay at southeast and Manila Bay at the west and the San Juan River is in the northwest of the city. It is surrounded by bodies of water that overflows when there is a typhoon or even simple rain.
Another main contributor to flooding of the area is the city's drainage system which is being solved by the local government and implementing various solutions to lessen the problem regarding flood in the city.
5. Makati
Makati, like Mandaluyong, is one of the prominent business cities in the Philippines yet it still has problems with floods and rains as this city is one of the top-rated cities in the list of flood-prone areas in the Philippines since it is located near the Pasig River.
As reported last 2019, Several areas in Makati City experienced flooding on Saturday due to rain dumped by severe tropical storm "Ineng."
Jonathan P. Vicente/INQUIRER.net 
As the local government is improving drainage systems and roadways, spending resources to effectively prevent flooding from most parts of the city, it is still heavily affecting Chino Roces, Magallanes, and Don Bosco area.
6. Marikina
This is entirely usual to the Marikina residents as Marikina is one of the cities that is heavily affected by floods and rain. As Marikina City is located on a low-altitude estuary and as such is regularly exposed to flooding, and is at risk from sea-level rise. Serious floods and rain arrive every August to January.
As reported last 2020, a number of houses near the Marikina River were submerged in flood as "Typhoon Ulysses" battered practically the entire Luzon mainland, including Metro Manila.
In a radio interview, Marikina City Mayor Marcelino Teodoro said roughly 40,000 homes had been either fully or partially submerged in the city, even calling the situation "overwhelming" and the worst since a typhoon back in 2009.
7.CaMaNaVa Area
Caloocan City, Malabon City, Navotas City, and Valenzuela City which is also known as the CaMaNaVa area which shares the same river system is one of the heavily affected areas in terms of flood.
As an effort to solve this problem, the government created a project which is the Camanava flood control project which was conceptualized in 1997 following the First Flood Summit conducted by Malacañang. It was supposed to be finished last 2007 yet until now, 2021, it is not completed with Malabon, Navotas and Caloocan continue to suffer from severe flooding as old structures also constructed by the Department of Public Works and Highways started to give way.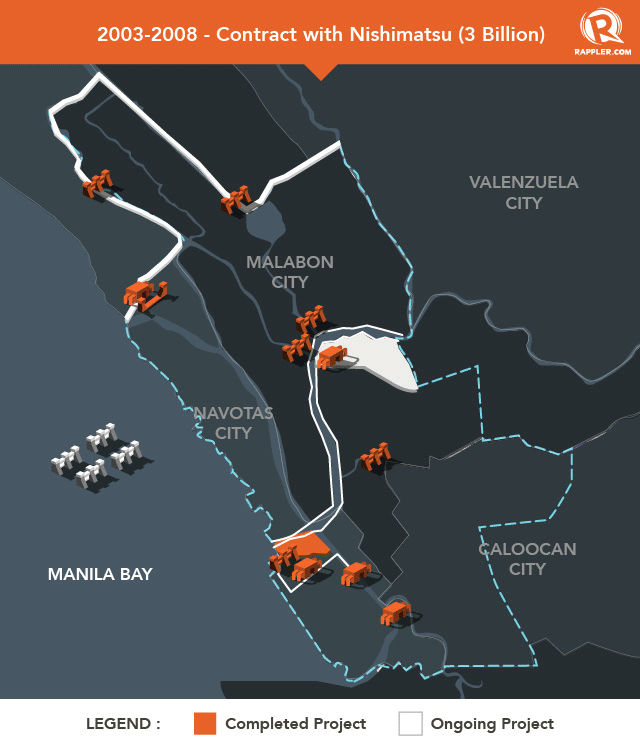 8. Camarines Sur and Bicol Region
Bicol Region and most especially Camarines Sur is one of the highly flooded and landslide areas in the Philippines. It was damaged yearly by various typhoons with the latest which was dated last January, that has led to 5 fatalities, 3 in Garchitorena Town (Camarines Sur Province), one in Pilar Town (Sorsogon Province), and in Bulan Town (Sorsogon). One person is missing in Camarines Norte Province. 190 people are displaced and temporarily sheltered in evacuation centers. Roads are damaged in Bicol Region.
In Casiguran town in Sorsogon, the swollen Mauhang River and creek flooded barangays Sta. Cruz, Lungib, and Rizal.
Roads were also left impassable in Barangay Dancalan in Bulusan town due to the overflowing river.
A minor landslide was also reported in Barangay Tula-Tula in Magallanes town due to heavy rains.
9. Agusan del Sur
Most Agusan del Sur parts are affected by floods whenever there's heavy rain, from Prosperidad, La Paz, Las Nieves, Bayugan City, Esperanza, Talacogon to Loreto, San Luis, San Francisco, Bunawan, and Patin-ay. 
Amongst them, the center of the Agusan River Basin is an especially flood-prone area. The flooding problems here are so dangerous that there have been several deaths caused by floods. 
10. Surigao del Sur
Even though Surigao del Sur is called The Surfing Capital of the Philippines, once stepping into the list of the flood-prone areas in the Philippines, no amount of tides and wind can help the people here get away from the flooding and landslide problems.
Every single municipality and island of Surigao del Sur has experienced heavy floods, as well as some towns of Surigao del Norte, such as Alegria, Mainit, and Surigao City.
The latest report in Feb 2021 showed that thousands of distressed residents were rescued Sunday morning as floods hit different parts of Surigao del Sur due to heavy rains caused by Tropical Storm Auring. 
Tropical Cyclone Wind Signal (TCWS) No. 2 was already raised in the provinces of Dinagat Islands and Surigao del Norte, including the islands of Siargao and Bucas Grande.  TCWS No. 1 was also declared over Surigao del Sur, Agusan del Norte, and Agusan del Sur. 
To see other material construction prices, please see here.
To know other construction guides, tips, and methodology for beginners, veterans, and contractors, please see here.